Building Your Own Camping Battery Pack From a Jump Starter
I went camping, a bunch of times in the last two years and recently got hold of an airbed from a friend. You bet you need one of those on your next trip, the one I have comes with a foot pump. It works!, however pumping 100-125 times for that perfect pressure is not the most ergonomic experience. So I ended up getting an air pump which could be run off a cigarette lighter 12v charger port in the car. It worked like a dream, till I ended up on a camping site which was at least a 100mtrs away from where my car was parked. I could not inflate and carry the bed in the woods. So I needed a camping battery pack, hmmm... I found plenty of DIY videos.
None of them fit my requirements, I wanted something light, cheap and easy to charge. These do not fit the bill. I didn't want to carry around a lead-acid battery enclosed in a tactical ammo box with buttons all around. It's heavy, hard to recharge, looks ugly, yuck!
So, what works for me? well, Ideally a power-bank which can output 12V power to connect car accessories. I can theoretically connect three traditional mobile power banks to extract 12V of power. Well ~15V, but this does not need to be accurate, DC circuits can be way simpler and then I can always use L7812 to regulate power, which will be limited to 1.5A but do I need to bother with that.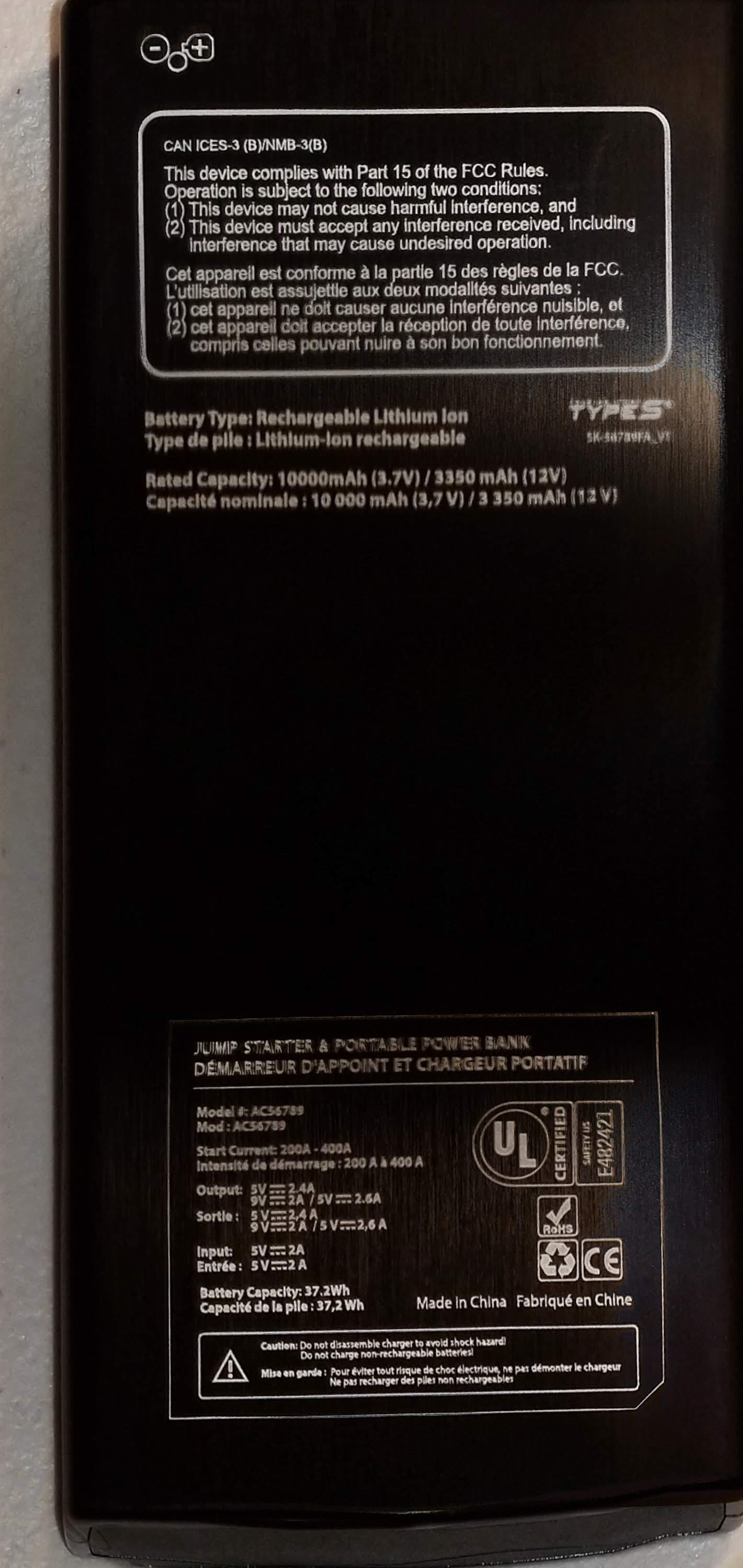 The Type-S Car Jump Starter Power Bank Specifications
I don't usually enter the automotive section at Costco, but this time I was there to check the battery prices so that I can plan to build one of those ugly military battery cases. But I spotted the Type-S Car Jump Starter on clearance, for just CAD $49.97. This sounded promising. The more I read on the box, the more I was convinced this was what I needed. If this thing can jump a car, this thing sure can power an air pump designed to run from a car socket. This thing can charge over micro-usb, usb-c, has a flash light and is super cheap. If anything goes wrong, I can simply return it (I don't have a car to use it otherwise.)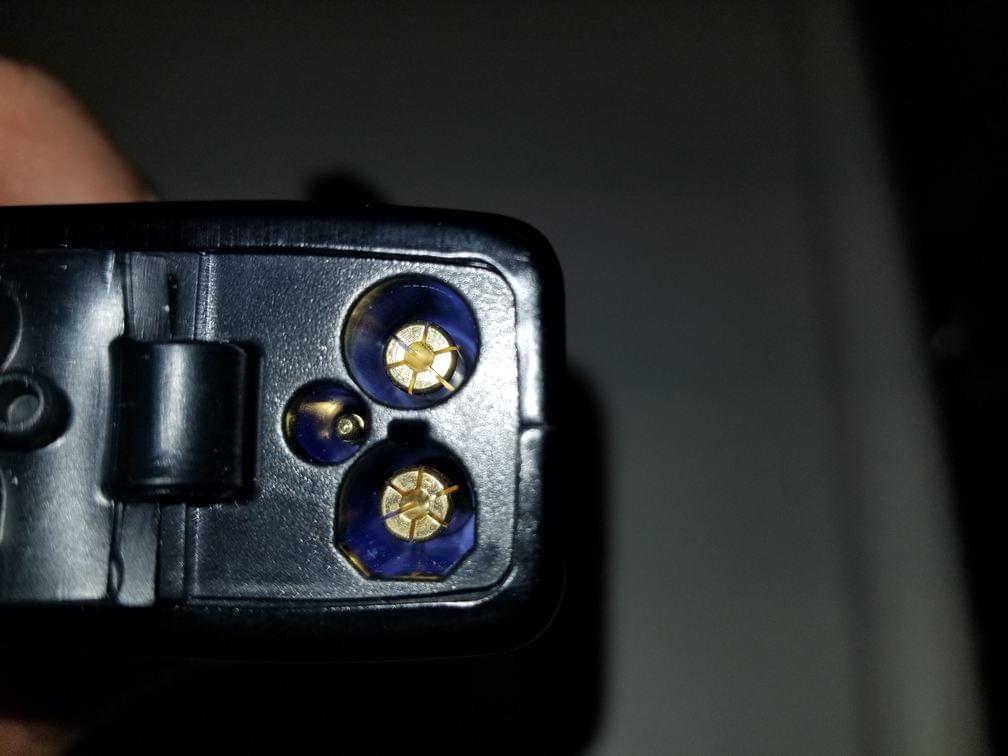 The Type-S Car Jump Starter Power Bank Proprietary Connector
This thing comes with a proprietary connector, which connects to a voltage regulator which in turn leads to the alligator clips we find on the jump cables. So far so good. My initial thoughts were to connect the alligator clips directly to the cigarette socket connector on the pump, Center is positive, so simple. Whirrr... it ran and dead. I freaked out, it ran for a couple of milliseconds and bust. I brought my nose closer to check if I burnt something, nothing. I connected the pump to the wall socket and it was pushing air happily. Maybe the power bank is dead, lemme charge this bad boy up.
The next day, after almost 10 hours of charging, let's redo the experiment. Whirrr... bust and beeping. The voltage regulator that comes with the pack does not like this load. Ok, enough games with this thing, I just jammed in 16awg speaker wires into the positive and the negative ends of the proprietary connector and just held the wires to the cigarette socket connector of the pump and voila! this thing just works.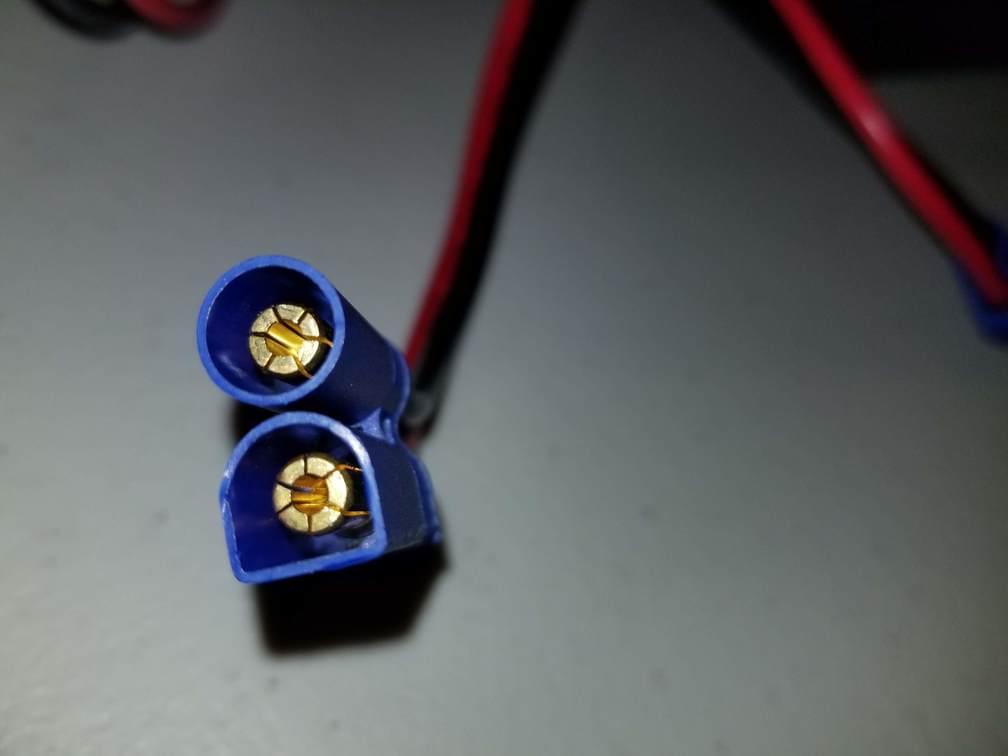 The standard EC5 connector from Amazon
Now, if you are an RC enthusiast like me, you would know this is so called "proprietary connector" is a slightly modified EC5 connector. I don't usually work with EC5's because they are a pain to solder and set right. I cannot do anything about this one so I find the cheapest and fastest EC5 connectors available with prime on Amazon. I would also need one cigarette socket connector. Since the prices were same for with or without alligator clips, I went with this one. I always have a soldering iron at home but if you don't, get a soldering kit like this (it's usually on lightening deal.)
Two days and a prime order later, I have my supplies and I need to test fit the connector. If you notice carefully, the proprietary connector's positive terminal is lightly rounded, nothing a sharp blade or a file cannot handle. If you scrape it nicely it looks better, but mine looks like: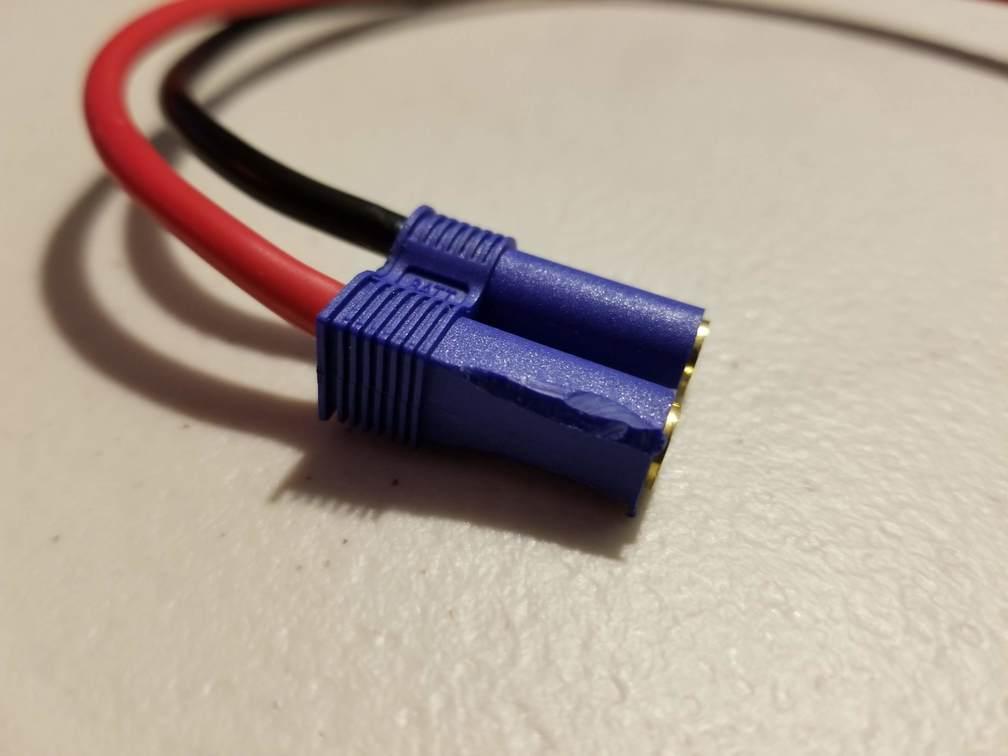 EC5 to Type-S proprietary conversion
Now you can splice the cigarette socket connector ordered earlier in a way that the male end of the EC5 connector is towards the cigarette lighter socket and the female end is towards the alligator clips. It looks something like this.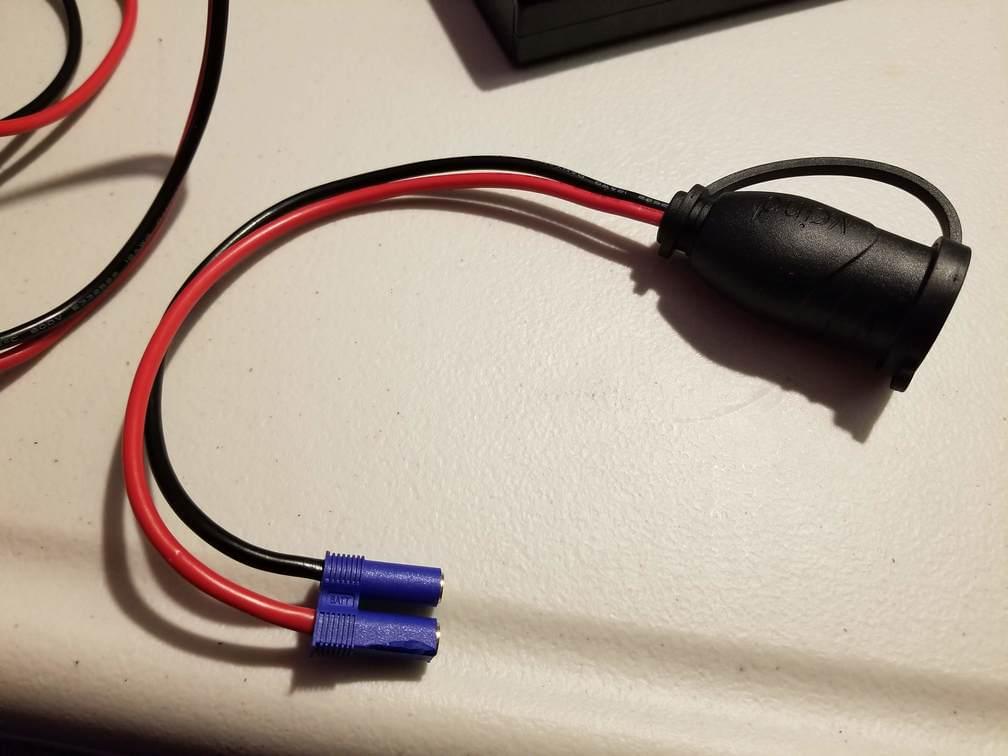 EC5 Male Connector, include the fuse though
But if I were to redo this, I would cut it between the alligator clips and the fuse holder, so that the fuse is always in circuit. The final product looks like this: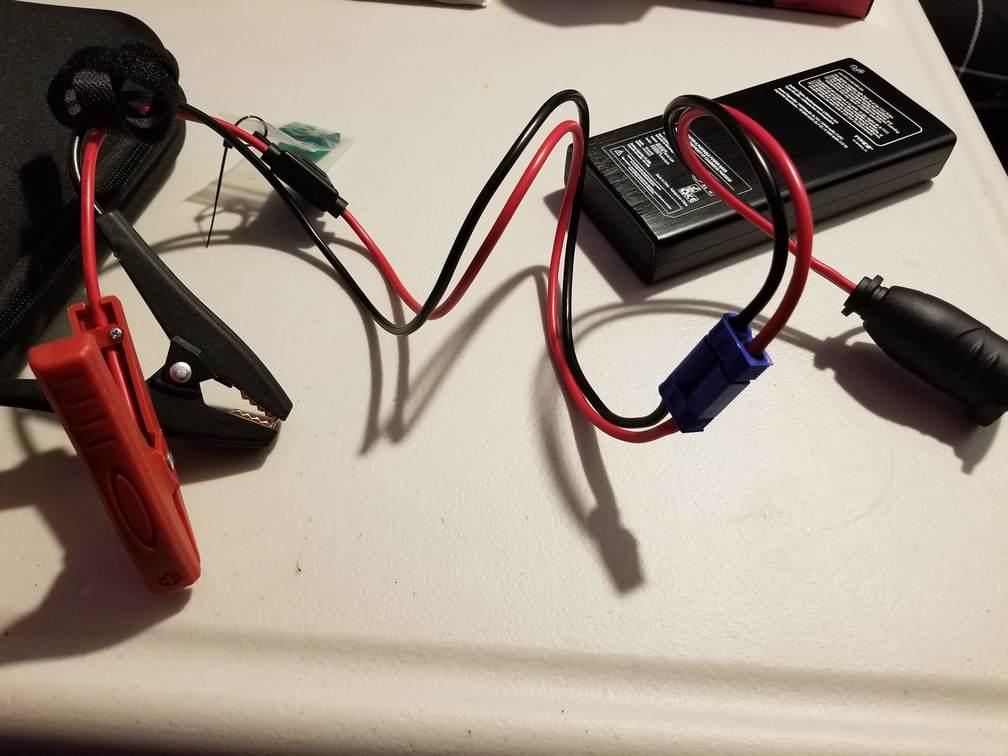 Final design I came up with, but could've been better
To connect this to the power pack, just disconnect the alligator clips and Bob's your uncle.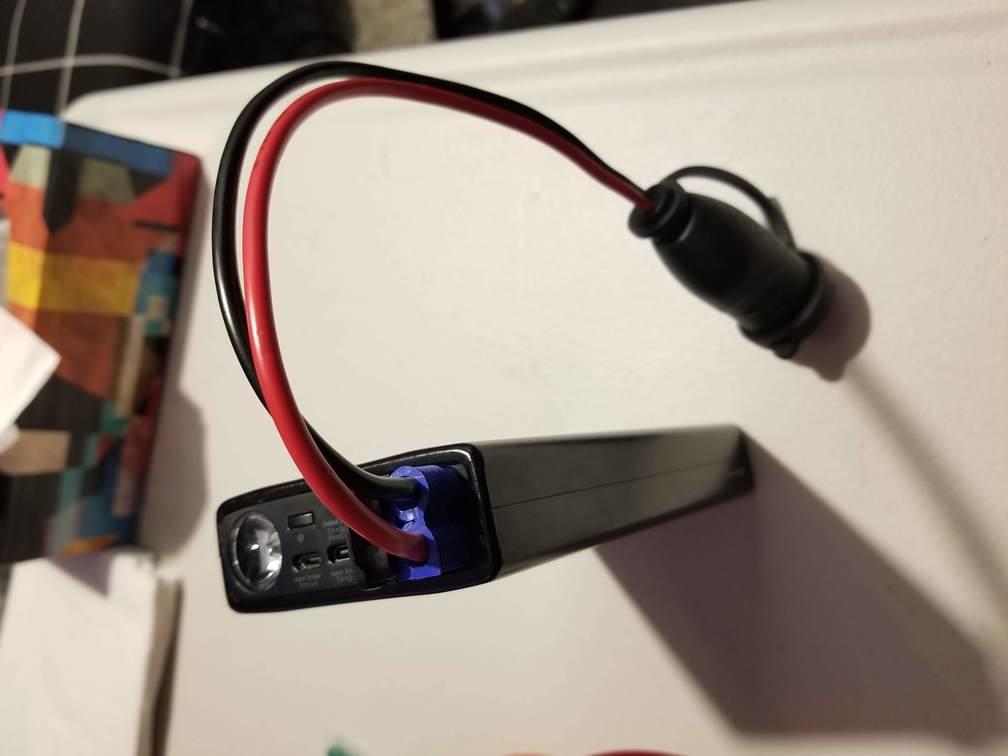 Our contraption ready for action
Cost of Materials:
Features:
Comes with it's own carrying case.
Charging via USB-C/Micro USB.
10 AH capacity.
Built-in flashlight.
The contraption can be used to power accessories from normal battery.
The contraption can run accessories from the power pack.
I tried inflating and deflating the queen bed at least 3 times and the power indicator still showed 4 dots, I am not sure what to make of it, but this power bank is a beast.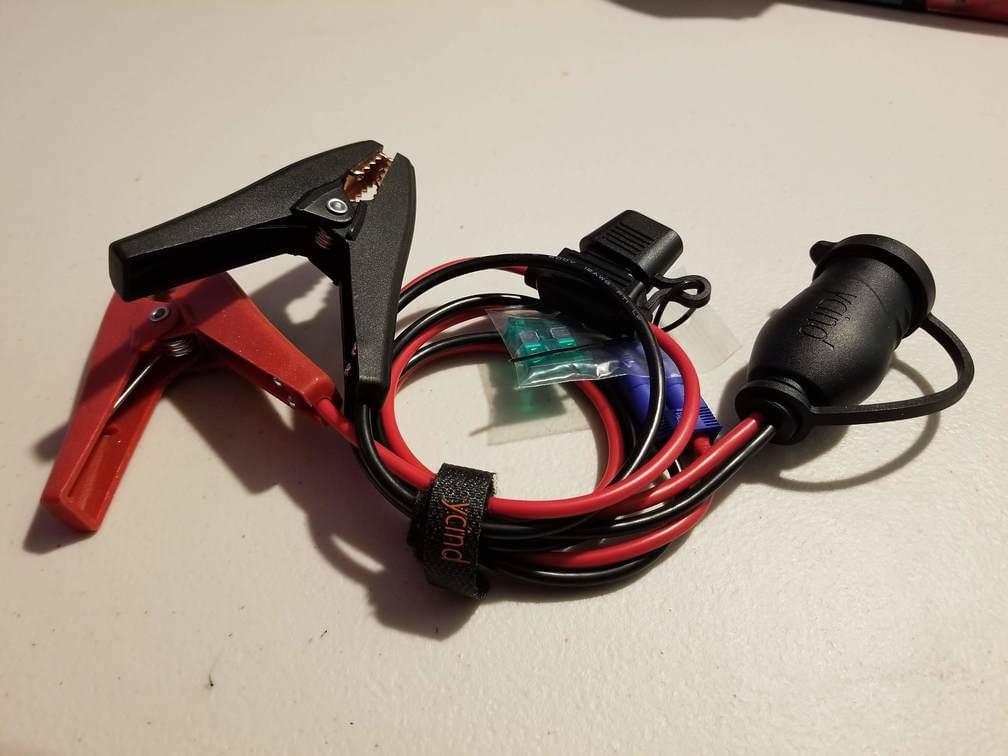 Contraption that works really well
Lemme know what you think about this, also this is not a regulated 12v power supply. Running most of the car accessories with a fuse in loop should work fine though.


Can I make one for you?
Probably yes! I do have the remaining nine EC5 connector pairs. I do not however have the cigarette lighter socket. So if you ask nicely and are patient with me, I can probably make one (or more) and ship it to you. Send me an email and we'll discuss.


PSA: Amazon Sells the First Half of the Project Now
This is a fairly old project, I saw just the EC5-Male-to-Cigarette-Socket on Amazon. You can use the same for half instead of this (you'll need to redo the connector though), but it's rated for only 15A max load, while mine is 30A. Also, mine makes the contraption useful with a battery pack or a conventional lead-acid battery. Furthermore it can be fuse protected, which can be helpful at times. The cost difference for the added functionality is less than $4.